Top-Rated Local Moving Professionals Serving the Greater Sacramento Metro Area since 1956.
Local Moving Services in Sacramento with Mother Lode
There's no such thing as a small and simple relocation and that includes local moves to nearby areas. The process involves lots of planning and preparation even before the packing and transporting begins. That's why Mother Lode Van & Storage offers top-rated local moving services around here to people preparing for these types of transitions.
Hiring Professional Sacramento Local Movers – Top Reasons
The number of benefits you get from hiring full-service local movers in Sacramento extends to every part of the relocation process. Their ultimate goal is to help you enjoy a stress-free moving experience that saves you time and energy. Instead of tackling this major task on your own, a reputable Sacramento moving company will be able to completely remove it from your to-do list.
The right team of trusted Sacramento local movers can assist you with everything from packing services to providing the necessary moving supplies and other equipment needed to handle the transition. Along with packing, they will also ensure your other belongings like furniture are protected throughout the relocation.
With years of industry expertise and experience, professional Sacramento local moving companies know all the best strategies to get the job done efficiently and safely. After they transport everything to your new home or apartment, they will even help put boxes and furniture in the proper rooms where they belong.
Sacramento Local Moving Requires Specialized Equipment & Training
Most moves need more than just a pickup truck and a dolly to get the job done effectively. An efficient Sacramento local moving company will bring its own specialized equipment and trucks to the project. These make it easier to handle the various tasks that come with a relocation while also keeping everyone safe at the same time.
Dependable residential moving companies in Sacramento will have designated trucks with mixed sizes ranging from 20 feet to 26 feet. They'll also supply moving boxes that are high quality and won't fall apart during transportation. Other standard tools you can expect them to bring include straps, furniture blankets, wardrobe boxes, shrinkwrap, dollies, and more.
Even more important than the equipment is the team of highly-trained Sacramento local movers who know how to use it properly. They must have the proper training to ensure each stage of the transition goes well as they work together with their own special procedures.
Training must be completed on every type of moving process such as planning, packing, loading, unloading, and unpacking. The right crew of short-distance movers will even be trained on how to quickly assemble and disassemble furniture as needed for the relocation.
Here at Mother Lode we have specialized technology to help with the process as well. This can include truck tracking using GPS to ensure that your items arrive safely at their next destination.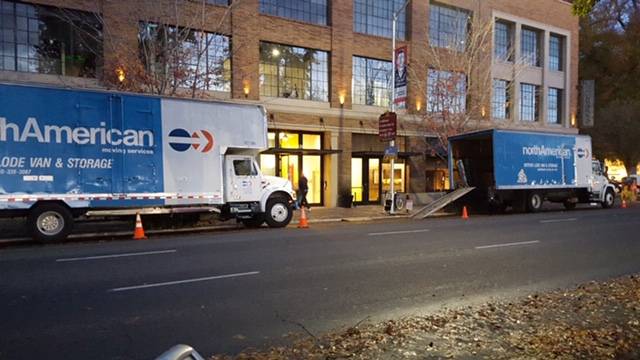 How Much Does a Sacramento Local Move Cost?
The price of your local Sacramento relocation will depend on a handful of factors that you can go over with a knowledgeable member of our team. As we're able to determine what specific services you require and other details about your project, we can provide you with a fair and affordable moving estimate!
To get a relocation quote that is accurate, one of our expert Sacramento local movers will review information about your upcoming move including:
Where you are moving
What types of items will need to be relocated
The amount of furniture you have
The distance traveled from location to location
Special services or extra prep work that is required
How easy it is to access your home or apartment
The number of professional local movers we'll need to send
Our Sacramento local movers cost varies based on these factors as well as the date and time you plan on completing your relocation.
You can always expect our pricing to fit your budget and match the job at hand. To get a Sacramento local moving quote, all you need to do is speak with a knowledgeable member of our team!
How to Choose the Best Sacramento Local Moving Company
To find the top local movers in Sacramento, it's always a good idea to start your search with online moving company reviews. Reading through this feedback makes it easier to identify what team has a strong reputation and will take care of you. Along with reviews, you can also look up details about how long they've been in business, what services they offer, and whether the team is licensed and insured.
Finding a trustworthy Sacramento local moving company also means confirming they have the proper equipment needed to handle your transition. These supplies paired with good customer service are great starting points for choosing the right team for the job.
At Mother Lode Van & Storage, our Sacramento movers have been supplying nearby neighborhoods with top-rated local moving services since 1956. As a leader among moving companies, we continue to serve our community with the best customer service. Many of our past clients have left us with positive reviews across sites like Google.
As one of the most trusted local moving companies in the city of Sacramento, we have even moved the previous governor of California, Jerry Brown, in and out of the Capitol three times! We also donate to our community through the Move For Hunger program.
Team Up with the Top Local Movers in Sacramento
You can never go wrong when hiring the knowledgeable Sacramento local movers here at Mother Lode Van & Storage. We have taken great care to train our team members in the most important relocation tactics and techniques to make sure you are always taken care of properly.
No matter what part of the Sacramento metro area you are relocating to or from, we'll be happy to take on the responsibility of handling your transition. Get in touch with us today by calling 916-631-4285 or fill out the Request a Quote form on the page to get a FREE local moving estimate!