Are you relocating to California but can't decide between Sacramento or San Francisco? These are both great cities, but they are wildly different! It can be a tough choice to choose between these two great cities. Both of these cities offer many job opportunities, family-friendly parks, and fun things to do with a full event schedule. Though these are some of the biggest cities in California, their size is only one pro of moving there.
When looking at Sacramento as compared to San Francisco, what better way to choose which city is better for you than with a pros and cons list?
It's also important to review the cost of living in Sacramento as opposed to San Francisco, as well as details about the local population, crime rate, and weather. You'll find everything you need to know to make a well-educated decision before choosing where to live.
Pros & Cons of Living in Sacramento vs. San Francisco
So you want to relocate, but you can't decide between living in Sacramento and San Francisco. It's a tough decision! Both cities have beautiful weather and tons of perks, but which one is right for you? Comparing the benefits and drawbacks of each city will definitely help make your decision easier. 
Living in Sacramento Pros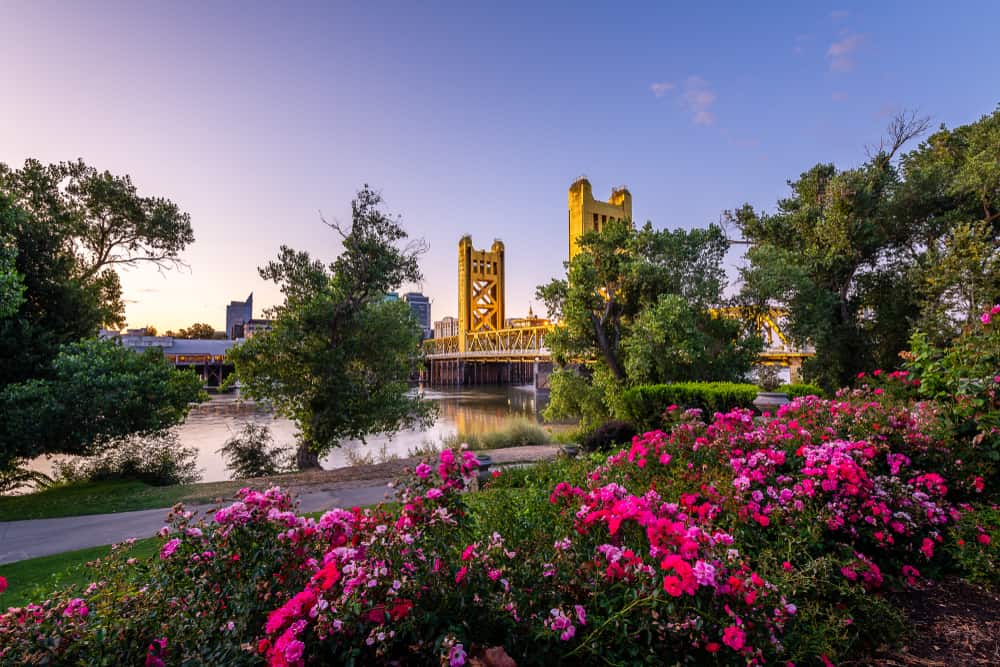 Outdoor Activities
Sacramento has less of a "big city" feel, and there are lots of recreational opportunities in and around the city. Just because you're not on the coast doesn't mean you won't have access to amazing freshwater activities – there are plenty of lakes and rivers nearby. Check out the American River Parkway, where you can hike, ride horses, spend a day on the water, or just relax. Weekend getaways are easy too – Folsom Lake and Lake Tahoe are both short drives away, and Napa Valley isn't far either!
Affordable Housing
Living in Sacramento is easier on the budget than many other places in California. Sacramento's cost of living is 15% lower than the California average. Average rent in Sacramento is $1,585, which is much less expensive compared to other cities in California.
Employment Opportunities
Not only is Sacramento's job market growing by about 2.5% a year, the city ranks high as far as work/life balance is concerned. It's also the California state capital, so government positions with great benefits abound. The most common jobs in Sacramento include management, office and administrative support, and sales occupations. The top two industries in Sacramento are healthcare and social assistance and public administration.
Living in Sacramento Cons
Hot Summers
If you're not into hot weather, you might not be happy in Sacramento, where summers are extremely hot! Temperatures can reach over 100°F. The good news is the Sacramento climate delivers a dry heat, which is more tolerable than humid areas. 
Beware the Pollen
If you suffer from allergies, you might have a hard time in Sacramento. Pollen is a big problem in the spring, and the city often lands on lists of least desirable places to live for people with allergies.
Living in San Francisco Pros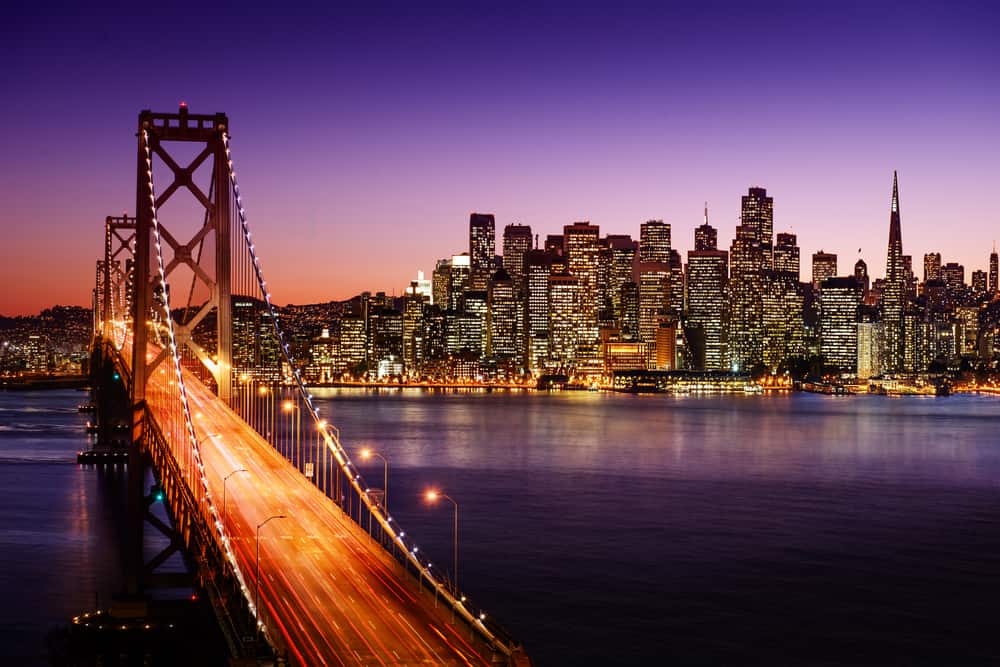 You'll Never Be Bored
In a metropolis like San Francisco, there's always something to do. The city is well known for sights like Fisherman's Wharf, its Financial District, and Union Square, but there is something to discover on every block in San Francisco. The city is teeming with art, culture, events and activities. The best part is that the city is very walkable, so you'll be able to meander to your heart's content. Looking to see some nature? The city is home to numerous beaches and over 220 parks. In fact, it's estimated that you are never more than a ten minute walk from a park in San Francisco!  
Booming Economy
No matter what industry you work in, chances are San Francisco has an opportunity for you. San Francisco is a global city with a flourishing economy that attracts workers of all sectors, from tech to finance to tourism and beyond. In fact, San Francisco is the 6th largest economy in the United States. Due to its proximity to Silicon Valley, it's a hotspot for start-ups, tech companies, and venture capitalists. You definitely stand to make more money working in San Francisco as opposed to Sacramento, too. The county was listed as having the 7th highest income in the US in 2019, and wages are rising by about 1.41% a year. San Francisco's unemployment rate is 7% lower than the national average, and the poverty level is 18% lower.
Liberal Leanings
San Francisco is famous as an LGBT-friendly city. The city is home to a large gay population that maintains a major presence in San Francisco's political arena. San Francisco also hosts one of the oldest annual pride parades in the United States, and San Francisco Pride is a major international event.
Living in San Francisco Cons
Traffic and Long Commutes
Though the city is very walkable and bike friendly, San Francisco residents tend to have longer commutes. The average commute is almost 31 minutes, compared to the national average of 25.7. Residents complain of frequent traffic jams, and gas is expensive to boot.
Housing Costs
If you're moving to San Francisco, you should expect to spend a lot on housing. The real estate market is extremely competitive, and renting isn't much less expensive. Average rent in San Francisco is $2,918, and that's after an 18% decrease since last year.  
Homelessness
Despite the extremely high salaries in San Francisco, there is a huge wealth gap. Homelessness is a well-known problem affecting San Francisco – Forbes listed it as having the 6th largest homeless population in the US.   
Cost of Living in Sacramento vs. San Francisco
Your budget is probably the first thing on your mind when deciding if you should live in San Francisco as opposed to Sacramento. When it comes to cost of living, San Francisco and Sacramento are very different. Both are more expensive places to live compared to the national average, but San Francisco is 109% more expensive, versus Sacramento which is only 19% more expensive. Here's a look at some of the price differences listed on Numbeo to give you an idea: 
Rent prices are 138.1% higher in San Francisco

Restaurant prices in San Francisco are 33% higher than in Sacramento

Utilities are only 1.44% more expensive in San Francisco

A gallon of milk in San Francisco costs $1.08 more than in Sacramento

A loaf of bread is $0.33 less expensive in Sacramento

A dozen eggs is $1.08 cheaper in Sacramento
Median sale price for a home in San Francisco is $1,450,000. Real estate prices in Sacramento are much lower, with homes selling at a median price of $440,000.
Median household income in Sacramento is $61,700, whereas in San Francisco the median household income is $87,700.
Check out our full guide to the cost of living in Sacramento to learn more.
Additional Things to Consider Between Sacramento vs. San Francisco
Population
San Francisco is home to about 850,282 people, versus Sacramento, whose population is 484,530. Both cities are similar in terms of population density, but San Francisco is growing at a much faster rate. Both cities are very diverse, but San Francisco tips the scales in that department.
Crime Rate in Sacramento vs. San Francisco
Sacramento and San Francisco are both large cities, so they each experience higher crime rates than the national average. However, of the two, San Francisco has higher crime rates across the board. Your chances of being the victim of a crime in Sacramento is 1 in 27, whereas in San Francisco, you have a 1 in 17 chance of being the victim of a crime.  Check our guide to the crime rate in Sacramento for more information!

Sacramento vs. San Francisco Climate
California is known to have some of the most beautiful weather in the world. However, despite being relatively close in location, there are definitely differences between Sacramento and San Francisco weather. You can expect lots of sun in either city, but San Francisco temperatures typically stay below 70 all year round. Average temperatures during the summer months in Sacramento are in the high 80s, low 90s, which are drastically warmer than San Francisco.
Sacramento vs. San Francisco: Where Are You Moving?
Now that you know more about the advantages and drawbacks of living in Sacramento and San Francisco, may have an idea of which city is better for you and your lifestyle! Does the slower pace and freshwater recreation of Sacramento appeal to you, or are you drawn to San Francisco's flashier city vibe? Only you can decide!
Sacramento to San Francisco Distance
Consider the distance from Sacramento to San Francisco when choosing where you're planning to reside. Sacramento to San Francisco is 87.9 miles or 1 hour and 23 minutes apart. 
If Sacramento is the city that wins your heart, make sure you work with the best professional movers in the Bay Area. Mother Lode Van & Storage is the premier moving company in Sacramento. Call us today at 916-631-4285 to work on your free quote!