When talking about the Sacramento climate, it's important to remember there is a difference between climate and weather. While weather changes from day to day, the climate is the long-term trend for the area. Sacramento and the valley have a Mediterranean climate.
Because of its location near the San Francisco Bay, the climate in Sacramento generally involves a sea breeze and cool nighttime temperatures. This breeze helps to keep the area cooler in the summertime. The 513,624 residents who call the area home get to enjoy mild winters and hot, dry summers.
Today, Sacramento is known for having over 40 farmer's markets. It is the farm-to-fork capital, thanks to its role as a hub connecting farmers to buyers throughout the country. From its diverse cultures to its famed trees, Sacramento is a popular place to call home in the state.
Sacramento Seasons
In Sacramento, the summer is generally hot and dry. Meanwhile, winters are fairly short and chilly. Instead of snow, you can expect clouds and rain.
While the temperature ranges between  39° to 94° throughout the year, it rarely tops 102° or drops below 31°. Thanks to the city's proximity to the bay, nights tend to be fairly cool, which is nice during the summertime.
Spring Weather in Sacramento
Spring in Sacramento starts in March and lasts until May. Sacramento's spring temperature is between 35.1° and 51.1°. While it starts in the 50s in March, the average high reaches 79.9° in May.
March is the rainiest month in spring with 2.75 inches of rainfall. While March's record low is 26°, snow is rare in springtime.
Summer Weather in Sacramento
Summer in Sacramento starts in June and goes until August. Sacramento's summer temperature is generally in the 70s and 80s during the day in the summertime. By July, Sacramento has a daily average high of 92.1°.
If you don't like rain, visit Sacramento during the summer. In July, you'll only get trace amounts of rainfall. Even in August, the city gets an average of just 0.05 inches of rain.
Fall or Autumn Weather in Sacramento
Fall in Sacramento starts in September and lasts until November. Sacramento's fall temperature is in the 80s during the day in September, but it drops to the 50s and 60s in November. At night, you can expect the average low to be in the 40s and 50s.
The climate in Sacramento is fairly dry in September and October. By November, rainfall picks up with an average of 2.08 inches of precipitation.
Winter Weather in Sacramento
Winter in Sacramento starts in December and ends in February. Sacramento's winter temperature is in the 50s during the day. At night, the temperature drops to the 30s or 40s.
January has the most number of days of precipitation out of the entire year. During January, you can expect 10.3 days of precipitation and 3.64 inches of average precipitation. Meanwhile, December is the darkest month and has an average of just 141.1 hours of sunshine.
Sacramento Monthly Weather
The climate in Sacramento is fairly dry throughout the year, so you generally don't have to bring your umbrella. If you want a break from the heat, the Sacramento climate is coolest in the winter. Spring and fall are relatively mild as well, so it's worth visiting the city during these months if you want to avoid the summertime heat.
Weather in January
January is the rainiest month of the year with 3.64 inches of rain and 10.3 days of precipitation. It's also fairly chilly this month with an average low of 38.8° and an average high of 53.8°. Remember to zip up your winter coat, and bring along an umbrella!
Weather in February 
In February, you can expect an average high of 60.3° and an average low of 41.4°. With 3.4 inches of rainfall, this is the second rainiest month of the year.
Weather in March
The climate in Sacramento starts to heat up in March with an average high of 65.1°. Before the weather gets too hot, spend some time enjoying the sunshine and Sacramento's University Arboretum.
Weather in April
In April, you'll generally find an average high of 71.1° and an average low of 46.2°. The days are definitely getting longer with 329.6 hours of sunshine during an average April. Before the weather gets too hot, schedule a visit to the Sacramento Zoo.
Weather in May
The weather is really starting to heat up in May with an average high of 79.9° and just 0.68 inches of rainfall. For something fun to do in May, check out the Sacramento Grilled Cheese Festival. 
Weather in June 
While July is hotter on average, the hottest day on record happened in June. On June 15, 1961, the thermometer hit 115°. Normally, the average high in June is 97.1° with just 0.21 inches of rainfall.
Weather in July
July is the driest and hottest month of the year. It has just trace amounts of precipitation, so throw on your sunglasses and sunblock. Don't forget to check out the California State Fair.
Weather in August
August is fairly hot and dry with an average high of 91.2° and 0.05 inches of rainfall. For an unusual, family-friendly event, head over to the Sacramento Banana Festival.
Weather in September
In September, Sacramento starts cooling off with an average high of 87.2° and an average low of 55.7°. Even though the days are a little shorter, you can still enjoy 347.8 hours of sunshine in an average September.
Weather in October
Pull out a sweater and boots because the weather starts to get a little chilly in October. While the daytime high is 77.6°, the daytime low drops to 50.2°. If you want to hear some rock music, check out the Aftershock Festival each October.
Weather in November
In November, you can expect 2.08 inches of rainfall and an average of 6.9 days of rain. While this is relatively little compared to the rest of the country, it is quite a lot of rain for Sacramento. The Sacramento climate also has temperatures ranging from the 40s to 60s in November.
Weather in December
December is the coldest month of the year with an average low of 38.4°. On December 22, 1990, Sacramento reached a record low of 18°. Don't forget your gloves, scarf, and winter coat on cold winter days.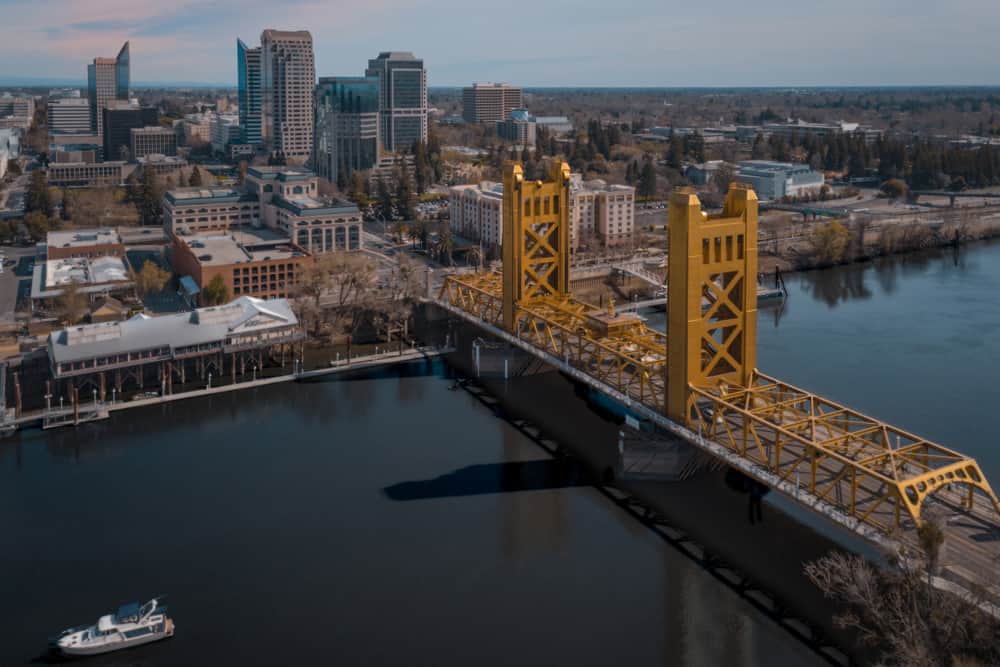 Annual Climate in Sacramento
Number of sunny days in Sacramento:

Each year, there is an average of 304.9 days of sunshine in Sacramento.

Annual rainfall in Sacramento:

Sacramento receives an average of 18.52 inches of rainfall per year. This is much lower than the United States average of 38 inches.

Annual snowfall in Sacramento:

Sacramento gets an average of 0 inches of snow. Since 1900, there have only been three snowfall events with any real snow accumulation.
Extreme Weather in Sacramento
While Sacramento doesn't get snow, it does occasionally get hail. If you are there during a really cold winter or spring storm, the hail can make driving quite dangerous at times.
Other than hail, Sacramento also experiences extreme weather like fog. Known as tule fog, this thick, ground fog occasionally rolls into the city in December and January. These fog events can reduce visibility to less than 100 feet and last for multiple days or weeks in a row.
Coldest month:

With an average low of 38.4°, December is the coldest month of the year.

Hottest month:

July is the hottest month of the year with an average high of 92.1°.

Wettest month:

With 3.64 inches of rainfall, January is the wettest month of the year.

Snowiest month:

Sacramento gets an average of 0 inches of snow per year.

Most humid month:

January is the most humid month with a humidity of 83.3 percent.

Sunniest month:

The sunniest month of the year is July with an average of 440.2 hours of sunshine and 0 rainy days.

Sacramento record high temperature:

Sacramento reached a record high of 115° on June 15, 1961.

Sacramento record low temperature:

On December 22, 1990, Sacramento hit a record low of 18°.
Best Time to Visit Sacramento
If you love sunshine, visit Sacramento in July. You'll encounter 0 days of rain, and the hottest temperatures of the year.
Anyone who likes mild, relatively warm weather will love Sacramento in spring and fall. While the weather is a bit cooler than summertime, you'll still find daily highs that hit the 70s or 80s. If you happen to visit in winter, you can always check out indoor events at the Crocker Art Museum, the California State Capitol Museum, or the Old Sacramento Waterfront.
Exploring the Sacramento Climate Before Relocating?
Known for its hot, dry summers, the Sacramento climate is also famous for being relatively mild during the rest of the year. If you are exploring the climate in Sacramento before moving to the area, Mother Lode has movers who can help you! Call our team today at (916) 631-4285 or complete the Request a Quote form above to get a free Sacramento moving estimate!