South Lake Tahoe is a charming little mountain city in Northern California. The vibrant and scenic city of South Lake Tahoe is swarming with sheer beauty and nature thanks to its effective conservation of the environment and wilderness in addition to its picturesque location along the ravishing Lake Tahoe. South Lake Tahoe is known for its long pristine beaches and year-round outdoor activities available at numerous parks, trails, campsites, ski resorts, and waterfronts. When you're not busy enjoying the city's breathtaking mountain views at various scenic spots, South Lake Tahoe CA further provides great schools, an array of versatile food options, premier shopping, and an abundance of rich history.
South Lake Tahoe was incorporated in 1964 and stood as a popular ski area. Today, the city's profusion of upscale skiing and snowboarding sites remains one of its top attractions, which draws in hundreds of visitors and vacationers each year. Nonetheless, the peaceful city of South Lake Tahoe is ideal for adventurous souls seeking a small-town feel, fine dining, and high-adrenaline outdoor and water sports.
Where is South Lake Tahoe?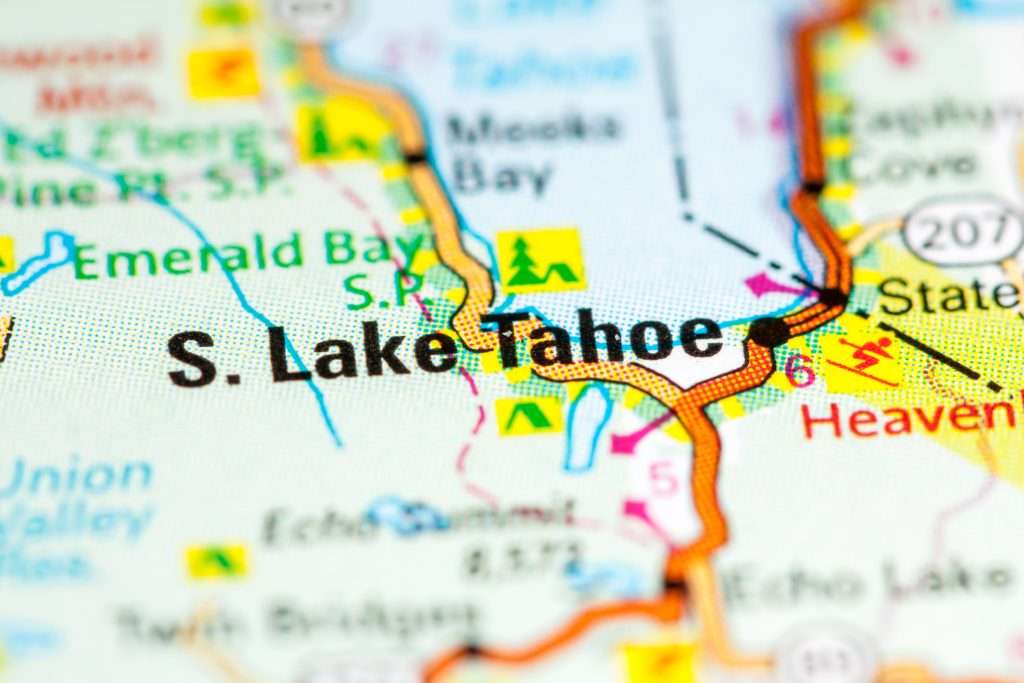 The city of South Lake Tahoe is situated in El Dorado County within the Sacramento-Roseville-Arden-Arcade Metro Area. Encompassed by the Sierra Nevada mountains and home to the Fallen Leaf Lake, South Lake Tahoe is nestled on the south shore of the renowned Lake Tahoe. For exploring outside of California, South Lake Tahoe CA provides a quick drive to many of Nevada's historic and populous towns. The distance from South Lake Tahoe to Reno is roughly 60 miles north. On the flip side, the distance from South Lake Tahoe to Sacramento is just over 100 miles west.
A few of South Lake Tahoe's nearby communities include Stateline to the north and Meyers to the south. Regarding public transportation, the buses in South Lake Tahoe are operated via Tahoe Transportation District and El Dorado Transit. South Lake Tahoe is further served by State Route 89 as well as the major highway, Route 50– or Lake Tahoe Boulevard.
South Lake Tahoe Population & Demographics
The quaint mountain city of South Lake Tahoe has a population of 21,330 distributed over 10,19 miles at a population density of 2,093.6 per square mile. Since 2010, the population has increased by .3%. The median age in South Lake Tahoe is 38.8, whereas 20.4% of residents are foreign-born. 87% of the South Lake Tahoe population has earned a high school diploma or higher, and 27.9% have attained a bachelor's degree or higher. The South Lake Tahoe median household income is $57,976, which is $26,121 below the state median.
South Lake Tahoe California has been called home by a few notable people, such as American professional snowboarder Jamie Anderson, and American basketball coach Jerod Haase.
The racial demographics in South Lake Tahoe are somewhat diverse, at 75.6% White (59.2% non-Hispanic), 29.8% Hispanic, 5.4% Asian, and 0.6% Black or African American. The sex makeup in South Lake Tahoe FL is 52% male and 48% female.
South Lake Tahoe has a crime rate of 2,414 per 100k population which is 6.5% lower than the state and 2.9% higher than the country. Additionally, property crime here is 10.4% lower than in the state. Nonetheless, South Lake Tahoe is a very safe place to live and raise a family.
The city is served by the South Lake Tahoe Police Department with its 37 sworn officers.
Cost of Living in South Lake Tahoe
South Lake Tahoe's cost of living index is roughly 118, or around 18% higher than the national average. According to the Economic Policy Institute, a family of four who wants to live comfortably in El Dorado County should be making around $101,681. The sales tax rate in South Lake Tahoe is 8.75%; meanwhile, the income tax rate sits at 9.3%. While the cost of living is nothing out of the ordinary, the city's serene views, pristine beaches, and venturesome spirit make living in South Lake Tahoe all the more worth it.
View this post on Instagram
If you're looking to settle, there are many beautiful South Lake Tahoe homes for sale. Redfin states that South Lake Tahoe has a median home price of $627,500. Interested in South Lake Tahoe apartments for rent? According to Rentcafe, the average monthly apartment rent in South Lake Tahoe is $1,847 for a 718-square-foot apartment.
South Lake Tahoe Typical Living Expenses
Here's a list of Payscale's everyday living expenses in South Lake Tahoe:
Average South Lake Tahoe utilities per month: $187.78
Doctor's visit: $142.52
Gallon of gas: $4.22
Gallon of milk: $2.56
One dozen eggs: $2.37
South Lake Tahoe Neighborhoods | Where to Live in South Lake Tahoe CA
Whichever end of the city you end up in, your South Lake Tahoe neighbors will consist of welcoming, adventurous people who respect and utilize the outdoors. Here, you'll find new custom homes, older cabins, lake houses, and mountain homes that come with a variety of styles, remarkable views, and property opportunities.
Tahoe Keys | Upscale South Lake Tahoe Neighborhood on Lake-Front
Virtual Tour of the Day: 472 Christie Dr, South Lake Tahoe, CA

Follow this link to tour this charming Tahoe Keys home overlooking wide water with stunning views of Mount Tallac: https://t.co/yu9zjZfK1b

Listed by: Peter Delili #tahoekeys #matterport #sothebysrealty pic.twitter.com/T0sX1WwGFc

— Sierra Sotheby's International Realty (@SierraSIR) August 3, 2020
This pristine waterfront community in South Lake Tahoe CA boasts eleven miles of inland waterways. On top of enchanting lakeside views and amenities, you'll have close access to a series of campgrounds, the beach, and the Tahoe Keys Marina.
The median home price here is $1,610,000.
Tahoe Island Drive | Local & Family-Friendly South Lake Tahoe Neighborhood
Tahoe Island Drive is a residential South Lake Tahoe neighborhood that is very family oriented due to its laid-back environment, safe location, and nearby elementary school.
Tahoe Paradise | Wooded Neighborhood in South Lake Tahoe near Community College
Located on the far south end of South Lake Tahoe, this wooded area provides stunning forest views, close proximity to the city's community college, mountain trailheads, and the Lake Tahoe Golf Course.
Homes here have a median sell price of $715,000.
South Lake Tahoe Weather & Climate
How's the weather in South Lake Tahoe? With a warm-summer Mediterranean climate, South Lake Tahoe experiences warm summers with highs of 80°F and cold, snowy winters with lows of 21°F. You'll definitely need a winter jacket during 142 inches of annual snowfall in South Lake Tahoe and an umbrella throughout the 23 inches of yearly rainfall. The ranging climate makes skiing and snowboarding popular sports for winter, and South Lake Tahoe camping or hiking around the Fallen Leaf Lake perfect activities for summer. The best months to visit South Lake Tahoe California are in July, August, and September – unless of course you value the astonishing amount of South Lake Tahoe snow.
Things to Do in South Lake Tahoe
Wondering what to do in South Lake Tahoe? There is an abundance of South Lake Tahoe activities to choose from. The city is recognized for its amplitude of outdoor activities and the South Lake Tahoe downtown area– packed with great dining, nightlife, cabin rentals, casinos, concerts, events, and shopping at The Shops at Heavenly Village. This ski village boasts over 40 shops and eateries, live music, exciting nightlife, a cinema, and an outdoor ice skating rink.
There are also several South Lake Tahoe hotels, resorts, and campgrounds, such as Heavenly Mountain Resort, Harrahs South Lake Tahoe, the Tahoe Valley Campground, the City of Lake Tahoe Campground, and Lake Tahoe Ski Resorts. There are also numerous South Lake Tahoe hikes to choose from. Below are a few of the best things to do in South Lake Tahoe:
If you and your family are looking for a lovely public beach with grills, picnic tables, summer concerts, scenic views of Lake Tahoe, and nearby South Lake Tahoe boat and kayak rentals, then this is the place to go!
1004 Lakeview Ave, South Lake Tahoe, CA 96150, (530) 542-6056
This family-friendly meadow park offers disc golf, a railroad exhibit, sports areas, the Bijou Dog Park, the Bijou Municipal Golf Course, and more.
1201 Al Tahoe Blvd, South Lake Tahoe, CA 96150, (530) 542-6091
This family-owned miniature golf course in South Lake Tahoe is the perfect place to have fun with friends and family.
2455 Lake Tahoe Blvd, South Lake Tahoe, CA 96150, (530) 541-3787
Additional attractions in South Lake Tahoe
The parks and recreational facilities in the city are served by the South Lake Tahoe Parks and Recreation Department. You can tune in on South Lake Tahoe events and South Lake Tahoe news via the city's official website.
South Lake Tahoe Restaurants
Wondering where to eat in South Lake Tahoe? Here are some of South Lake Tahoe's best restaurants:
Delicious Latin American restaurant with local and organic Latin cuisine.
1001 Heavenly Village Way, South Lake Tahoe, CA 96150, (530) 541-2985
Casual restaurant serving tasty Mediterranean dishes.
2229 Lake Tahoe Blvd Suite A, South Lake Tahoe, CA 96150, (530) 314-7598
Relaxing Italian restaurant offering traditional Italian food.
2180 Lake Tahoe Blvd, South Lake Tahoe, CA 96150, (530) 600-2220
Jobs in South Lake Tahoe
South Lake Tahoe is expected to experience a 34.3% increase in job growth over the next decade, which is .8% higher than the U.S. average. The average base salary in South Lake Tahoe is $66,000, whereas the average hourly rate is $20.31. A few of the most popular job positions in South Lake Tahoe include operations managers and assistant general managers, while the most popular employers include Vail Resorts, Inc. and Barton Memorial Hospital. If you're interested in South Lake Tahoe jobs, try looking online for jobs in and around South Lake Tahoe CA. Being somewhat of a vacation town, there are also many job opportunities in South Lake Tahoe that revolve around tourism.
South Lake Tahoe Schools
South Lake Tahoe CA is served by Lake Tahoe Unified School District with 3,641 students, 8 schools, and a student-teacher ratio of 21:1. A few of the schools in South Lake Tahoe include South Tahoe High School and Tahoe Valley Elementary School. The city is also home to Lake Tahoe Community College.
You can visit the El Dorado County Library in case you need quiet reading or studying time.
South Lake Tahoe Statistics & Information
South Lake Tahoe County: El Dorado County
South Lake Tahoe area: 10.19mi²
South Lake Tahoe zip codes: 96150-96158
South Lake Tahoe area code: 530
South Lake Tahoe elevation: 6,237′
South Lake Tahoe time zone: Pacific Time Zone (PST)
Closest airport to South Lake Tahoe: Lake Tahoe Airport or Reno-Tahoe International Airport (RNO) – 60 miles north of South Lake Tahoe
South Lake Tahoe Map
Ready to start planning your move to South Lake Tahoe California? Allow our team of trusted South Lake Tahoe movers to give you an easy relocation! Call Mother Lode Moving today at 916-631-4285!