Located about 34 miles southwest of Sacramento where the I-80 meets the I-505, the area of Vacaville offers a good-sized city with a small-town feel. The area is often nicknamed "Cowtown" due to the translation of its name with "vaca" being Spanish for cow and "ville" being French for "town". It can be found adjacent to other nearby communities like Fairfield, Bucktown, and Allendale. It's also 55 miles from San Francisco.
Known for being one of the most family-friendly cities in the state of California, young couples with children abound in this area's comfortable neighborhoods. As more people keep moving to Vacaville, it is one of the faster-growing areas across the country.
Vince Newsome, NFL player for the Rams & Browns was the first Vacaville resident drafted into the NFL.
1. People of Vacaville, CA – Population & Demographics
Vacaville has continued to grow over the years as the city now has nearly 10 times as many people living there as it did back in the 1970s. The Vacaville population is 96,918 people with a median age of 37 years old. Read on to see why residents living in Vacaville tend to stay for the long haul once they arrive.
A look at local Vacaville demographics shows the city has about 53% Caucasian, 14% Hispanic or Latino, 10% Black or African American, and 7% Asian. The male population outnumbers the female population with a gender ratio of about 51.79% men and 48.21% women. With crime rates that are about 17% lower than the California average, residents living in Vacaville enjoy comfortable and safe living conditions.
2. Things to Do in Vacaville
Even though it's more of a suburban area, people are always able to find fun things to do in Vacaville. The 470-acre Lagoon Valley Park is one of the most popular local attractions thanks to its access to fishing, boating, and more. Visitors are able to hike, have picnics, and even bring their pets to enjoy a day outside.
View this post on Instagram
Lagoon Valley Park, 1 Peña Adobe Rd, Vacaville, CA 95688  (707) 469-4020
Visiting Rockin' Jump is another one of the top things to do in Vacaville. It has a huge number of activities for both adults and kids including their Open Jump Arena of trampolines, the Slam Dunk Zone, rock climbing walls, stunt areas, dodgeball, and much more. Rockin' Jump is easily one of the top Vacaville attractions for birthdays, family get-togethers, and other group events.
View this post on Instagram
Rockin' Jump Vacaville, 828 Alamo Dr, Vacaville, CA 95688  (707) 492-5867
Additional Vacaville Attractions
3. Vacaville Restaurants
After relocating to Vacaville, one of the first things on your list should be to check out the top places to eat around town. One of the best restaurants in Vacaville is Tacos Jalisco, a fun taqueria serving up burritos, quesadillas, tacos, nachos, chimichangas, salads, and more. Take your pick from a full menu of Mexican cuisine and then wash it down with one of their select wines or imported beers.
View this post on Instagram
Tacos Jalisco, 312 Cernon St B, Vacaville, CA 95688  (707) 446-9206
Whether you're looking for a place to have breakfast, lunch, or dinner, Black Oak Restaurant is another one of the top eateries in Vacaville. With a full spread of American classics, visitors can feast on fish & chips, sandwiches, chicken wings, salads, burgers, and more. 
View this post on Instagram
Black Oak Restaurant, 320 Orange Dr, Vacaville, CA 95687  (707) 448-1311
4. Cost of Living in Vacaville, CA
While the area of Vacaville is still considered fairly expensive, it isn't quite as much as some other communities nearby. The cost of living in Vacaville is about 35% higher than the national average and about 15% higher than the California state average. The housing market is more than other surrounding cities, while food, healthcare, utilities, and transportation are a bit less costly.
About 60% of people residing in Vacaville own their living spaces. As you look through the options available around the city, you'll see the average listing price of a home in Vacaville is about $499,000 with an average 10% down payment required. With a final median sale price per square foot of $285, there are plenty of great Vacaville, CA homes for sale.
A bit more than 40% of the population that is relocating to Vacaville are renting homes and apartments to live in. The average price of rent in Vacaville is $1,902 per month, an increase of around 5% in the last year. Viewing the options around the city, you will find rates ranging from about $1,733 per month for a one-bedroom apartment up to around $1,999 per month for a two-bedroom place.
5. Vacaville Neighborhoods
The top communities in Vacaville are clean, comfortable, and safe for local residents. The city covers a space of about 29 square miles and has many great places to live within that area.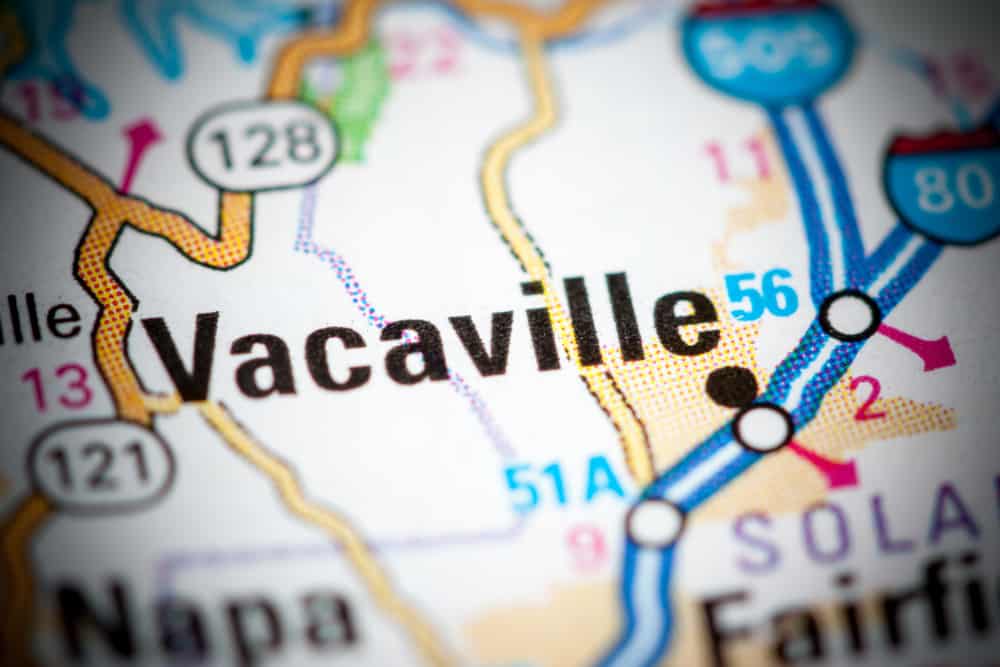 A few of the best neighborhoods in Vacaville include: 
Ulatis Park

Brighton Landing
Vacaville, CA is located near the center of Solano County and spans the zip codes of 94533, 94534, 95687, and 95688. You'll likely end up with a 707 area if you switch to a local number after moving to Vacaville.
Local residents living in Vacaville are happy with the convenient shopping destinations around the city such as Target, Sam's Club, Vacaville Premium Outlets, Lowe's, Costco, 99 Cents Store, Walmart, and the Nut Tree Plaza.
6. Vacaville Schools
With its own Vacaville Unified School District, about 15,903 children between the ages of 5 and 17 living in Vacaville attend schools in this city. Parents are pleased with the overall experience and level of education their kids get within the district.
The main schools in Vacaville are:
Kairos Public School Vacaville Academy

Alamo Elementary School

Sierra Vista K-8 School

Elise P. Buckingham Charter Magnet High School

Vacaville High School
When it comes to secondary education, newly graduated high school students can always attend the Solano Community College in Fairfield to the south.
7. Jobs in Vacaville
The main careers you'll find with people residing in Vacaville include salespeople, business managers, educators, construction workers, production representatives, and administrative support staff. Across these Vacaville jobs, they equal out to a median household income of about $77,807.
Common industries in the area are healthcare, retail, public administration, construction, manufacturing, and education. Within these fields, a few of the top employers offering jobs in Vacaville include:
Facebook

Google

Salesforce

Twitter

Uber

Kaiser Permanente
While it a decent distance, many locals commute from Vacaville to Sacramento, which is about 35 miles away. The trip generally takes between 35 – 45 minutes depending on traffic and construction.
8. Vacaville, CA Weather
In standard California form, people living in this area experience beautiful Vacaville weather all year round. After relocating to Vacaville, you'll be able to enjoy outdoor activities like local parks, golf courses, and other places whenever you want.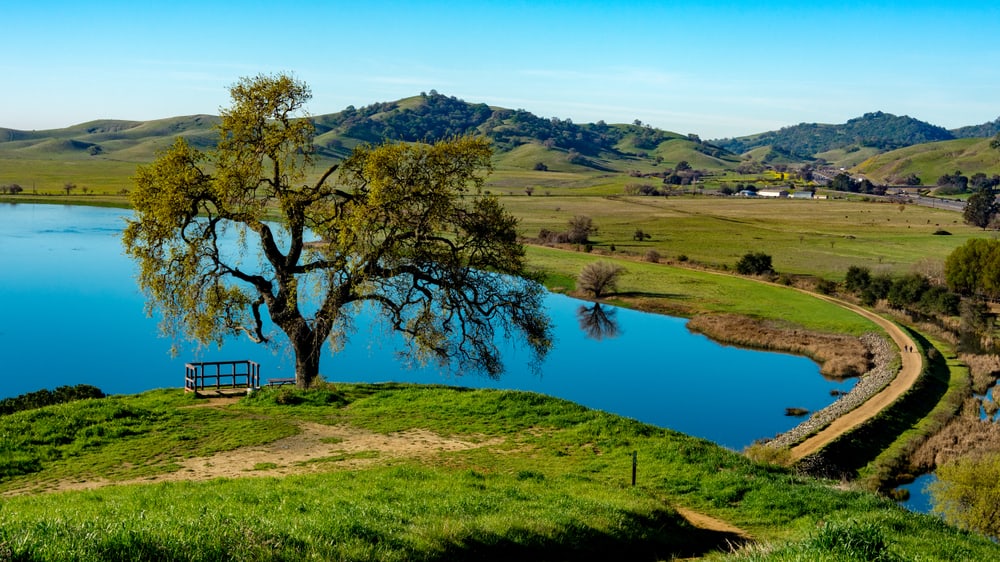 Weather in Vacaville brings about 25 inches of annual rainfall. During the summer, temperatures vary from lows in the 60s to average highs in the upper 90s. Winter cools down a bit to low temps in the mid-30s and highs in the upper 50s.
Living in Vacaville Pros & Cons
Pro:

Enjoy a city with a fun culture that is growing more diverse every year.

Pro:

Great weather, safe neighborhoods, a strong job market, you name it.

Con:

Plan to pay a bit more to live in Vacaville than in other parts of the country.
Moving to Vacaville 
The city of Vacaville is a great option for people who don't want big-city life. Residents living in Vacaville enjoy a quiet community with great people, fun local activities, and many other benefits.
Do you need help from professional Vacaville movers for your upcoming relocation? Get in touch with the team here at Mother Lode Van & Storage by calling (916) 631-4285 or fill out the Request a Quote form for a free moving estimate!