Ready to make your dream home a reality in beautiful Sacramento? The River City is home to many custom home builders ready to help you design and build a home you'll fall in love with. Of course, one of the most challenging aspects of building a home in Sacramento is choosing the right builder and deciding on your budget.
How much does it cost to build a house in Sacramento? Construction costs can be difficult to estimate for custom homes as virtually everything is up to you. California is also known for its high construction costs. The average cost per SQ to build a home in Sacramento is $300 to $500 or more. Be aware of the high permit fees which can be up to $100,000 or even more, especially if you're building outside of Sacramento in El Dorado County.
Ready to start exploring custom home builders in Sacramento? Here are the best, including firms that only handle construction and design-build firms that offer architectural and design services too.
ESI Builders – One of the Most Recognizable Luxury Home Builders in Sacramento
Founded by David Sipes after three decades of experience in home building throughout Northern California, ESI Builders is now one of the best custom home builders in Sacramento. The goal of ESI Builders is to deliver "The Ultimate Building Experience" through an intimate knowledge of quality, luxury, and energy efficient building with a customer-centered approach.
ESI Builders recently constructed one of the largest homes in Folsom in the Greater Sacramento area. The luxury Mission-style home boasts over 10,000 square feet.
View this post on Instagram
If you're building a home in Sacramento with an interest in smart technology, sustainable living, and energy efficiency, ESI Builders is a top pick. The company has decades of experience in smart custom home building with a goal of a net zero electricity bill for every luxury home it builds. This goes beyond solar panels to considering every aspect of the design, including pool equipment, windows, HVAC systems, and lighting. ESI Builders is a certified performance contractor with the Energy Upgrade California Program.
Unlike some Sacramento home builders, ESI Builders is a design-build firm with turn-key solutions. They partner with carefully selected craftsmen to deliver the level of quality you expect. ESI Builders isn't your typical cookie-cutter home builder that reuses the core design of their homes and makes minor floor plan and finish changes. Every home they build is as unique as you are.
ESI Builders doesn't just do new home building: they have also been named one of the top kitchen remodelers of 2019 by General Contractors' Magazine.
ESI Builders & Remodelers, 4993 Golden Foothill Pkwy #9, El Dorado Hills, CA 95762 (916) 939-9501
Jensen Custom Homes – Sacramento Luxury Home Builder Known for Elegant French Country Design
Jensen Custom Homes is one of the most recognizable names among custom home builders in Sacramento. With a track record going back 19 years, the firm was founded by Jon Lienert and specializes in elegant estates inspired by Italian, Mediterranean, Contemporary, and French Country architecture.
The firm's French Country homes are among its most recognizable. Jensen Custom Homes earned two awards from the 2006 Street of Dreams Tour – Best Architectural Design and Best in Show – for Chateau du Bois in Auburn, CA. This magnificent estate boasts multiple fireplaces, a miniature golf course, and a theater.
Jensen Custom Homes, 3308 El Camino Ave. Suite #300-349, Sacramento, CA 95821 (916) 871-5974
Grenz Homes Inc. – Named Best Home Builder in Sacramento in 2019
Grenz Homes Inc. is one of the oldest home builders in the Sacramento Valley. Founded by Ray Grenz in 1968, Ray's son Chris took over in 1996. Grenz Homes Inc. has earned many accolades including Best Home Under $1.6 Million and Best Value from the Northstate BIA. It was also named Best Home Builder of 2018 and 2019 from Sacramento Magazine.
With decades of experience building custom homes in Sacramento and neighboring suburbs, Grenz has a well-earned reputation and works with the best specialized contractors to surpass your expectations. Unlike many home builders on this list, Grenz Homes Inc. doesn't just handle luxury homes; they're also a good choice for a more modest custom-made home.
Grenz Homes Inc., 9282 Madison Ave., Orangevale, CA 95662 (916) 989-4028
Vogue Homes – Sacramento Luxury Home Builder Known for Exterior Detailing
Do you have a truly unique vision for your dream home? Do you appreciate fantastic exterior details and extensive use of natural materials? Vogue Homes may be a good fit.
Vogue Homes has become famous for its use of wood, stone, and exterior detail to design homes that combine elegance, innovation, and creativity. This design-build firm was founded in 1978 by Robert Tellesen who believes in using only the best materials and the most skilled craftsmen. The firm has many areas of specialties including custom:
Stairs
Gates and doors
Windows
Mosaics
Pools
Landscaping
Kitchens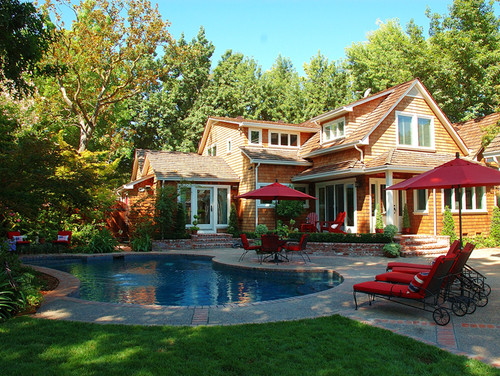 Vogue Homes has earned an extensive list of awards. In 2018, they were named the Best Contractors in Sacramento by GC Magazine. They have also appeared in This Old House, Sacramento Magazine, and Builder/Architect.
Vogue Homes Inc, 1761 35th St, Sacramento, CA 95816 (916) 476-3636
The Hills Group – Award-Winning Sacramento Home Builder
Founded in 1993 by Paul Hills after a decade of experience in construction, The Hills Group has become one of the top luxury home builders in Sacramento and combines Paul's experience with his wife's interior design skills. This award-winning design-build firm has built a reputation for combining unique architectural style with the latest in energy efficiency and home technology.
View this post on Instagram
The Hills Group can help you bring your vision to life with a complete experience that incorporates:
Design – The design team will work with you through a streamlined approach to hear your ideas and make them a reality. The design stage will establish benchmarks, timelines, and more to deliver custom floor plans, a fully-engineered construction plan, and 3D models.
Construction – The Hills Group is known for its quality construction work. Construction stays on schedule with established trade relationships and skilled craftsmen.
Landscape – The landscaping team transforms your yard to match your home with elegant outdoor spaces for relaxing, playing, and sharing. Whether you're interested in a custom swimming pool with a hot tub or waterfall, a chef-inspired outdoor kitchen, or a low-maintenance and pet-friendly space, your expectations will be exceeded.
The Hills Group is an award-winning luxury home builder in Sacramento that has earned prestigious awards like the Northstate BIA's Best Custom Home Over $2 Million for Lilac Lane and the American Institute of Building Design's Best Custom Home Design. In 2006, they won 5 of the 7 awards in the BIA Dreamhome Showcase including Best of Show and Best Architectural Design. Their work has been featured in Sacramento Business Journal and Luxury Home Magazine.
The Hills Group, 6085 Douglas Blvd, Suite 100, Granite Bay, CA 95746 (916) 791-0559
With Turn-Key Construction Group, you don't need to find and buy a lot, decide on a builder, then work separately with an architect to design your dream home. Turn Key is a one-stop shop capable of helping you from lot selection and design to ground breaking and finishing your home.
Founded in 1991, Turn-Key Construction Group is a design-build custom home builder in Sacramento with a team that includes owner Kent Sciutto, who oversees the team, builders, an architect, and an in-house designer. This team works together from the beginning to seamlessly bring your vision to life. They can even help with financing as they are pre-qualified with many construction lending companies.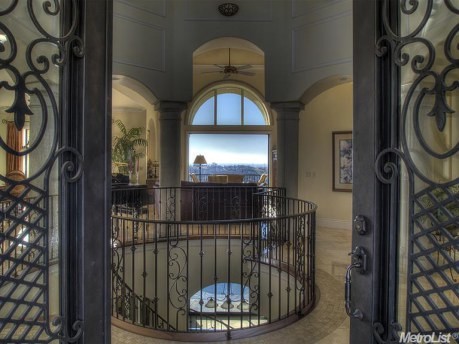 Check out the Turn-Key Construction Group portfolio to see their stunning custom homes in Sacramento. Turn-Key has built some of the finest French Country, Mediterranean, and Craftsman homes in the Sacramento Valley.
Turn-Key Construction Group, 4354 Town Center Blvd., El Dorado Hills, CA 95762 (916) 599-2176
Bradley Builders – Custom Home Builder with Planning & Design Services
Bradley Builders handles both commercial and residential home construction and remodeling. Their custom home services encompass construction, planning, and design with a focus on considering the environment and your lot to choose materials that fit with the surroundings. Bradley Builders will work with you and architects during planning then oversee subcontractors throughout the building phase.
There are a few things that make Bradley Builders stand out from the pack. They specialize in large custom windows for excellent natural light and the best possible views. They also focus on using natural materials including specialized rock details and fir trim to give your home rich texture and visual interest.
Bradley Builders is most known for its remodeling projects and has won several Contractor of the Year (CotY) awards from NARI, an organization of remodeling professionals.
You can see a portfolio of their past work here.
Bradley Builders, 5826 Robertson Ave, Carmichael, CA 95608 (916) 481-6011
Map of Home Builders in Sacramento
As you can see, choosing the best home builder in Sacramento, CA is easier said than done. Sacramento boasts several award-winning design-build firms, but they each have some stand-out features and specialties that can make your choice a little easier.
Once your dream home is finally ready for you to move in, give us a call at Mother Lode Van & Storage for top-notch moving services to settle you in without the stress.