Are you moving to Sacramento or buying a home that you want to remodel? Are you working with a Sacramento home builder and need an interior designer to bring your vision to life? Or are you simply ready to update your existing home? An interior designer can help you get the look and function you want, whether you have a vision already or need help creating your style.
What does an interior designer do? They can assist with everything from space planning and selecting furniture, colors, finishes, and materials to project management during construction, architectural design, and product acquisition. They will help you understand your unique style and create a space that's completely you, comfortable, and the perfect fit for your lifestyle.
Here is where to find an interior designer with the skill and vision you need. Explore the seven best interior designers in Sacramento, whether you are looking for sustainable home decorating, transitional design with the wow factor, or design that fits best with your home's architectural style.
Sacramento Interior Designer vs Interior Decorator: Which Do You Need?
Is there a difference between an interior designer and decorator? As you prepare to hire a professional to help you transform your home, it's important to know the difference between these two terms.
The terms are often used interchangeably, and some interior decorators in Sacramento advertise themselves as designers. However, there are distinct differences.
An interior decorator focuses on the aesthetic and decorative elements of your home to create the style you are going for. They can assist with selecting colors, materials, patterns, furniture, and accessories.
What is an interior designer? Interior designers in Sacramento generally have formal education, additional skills, and may be certified or licensed. An interior designer can help with the same things as a decorator as well as:
Adding doors or windows to your home
Whole-house remodeling and renovations
Blueprints and floor plans
Structural and architectural elements
If you only want to redecorate your home, an interior decorator can give you the help you are looking for, often with lower costs. A certified interior designer is the best option if you are planning a complex or large-scale project that requires making any changes to your floor plan, structure, or coordinating work with contractors.
Urban 57 is a unique addition to this list. They are primarily a furniture store owned by interior designer Kamran Baghestanian. Their design focuses on modern furniture with vintage inspiration. You'll find fun ways to express different sides of your personality: large-scale items with sleek, clean lines but unique details; vintage style with modern materials; clean glass and metal paired with warm stone and wood; or contemporary patterns on pieces with classic curves.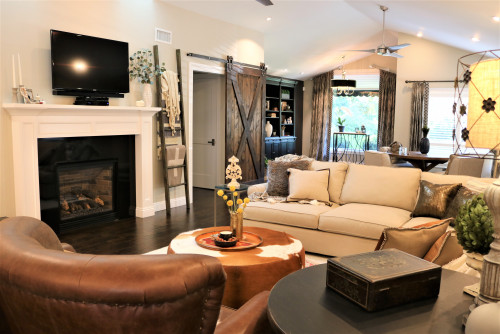 Urban 57 offers free in-store consultations for Sacramento interior design services or, for a $195 fee (for the first room), they offer in-home consultations. During your consultation, they will discuss your design style and color palette, measure spaces and discuss how they will be used, suggest initial concepts, and determine your priorities and budget. The next step is a professional space plan and product research.
Urban 57 Home Decor & Interior Design, 5601 H St, Sacramento, CA 95819 (916) 476-6190
Design Shop Interiors – Nationally Recognized Team of 23+ Interior Designers Near Sacramento
Design Shop Interiors was founded in 2013 and has grown to a large team of 23 women who have completed hundreds of projects. Their Sacramento interior designers focus on classic design that never goes out of style with work that's been featured nationally including on HGTV.
View this post on Instagram
When you choose Design Shop Interiors, you will work directly with the team as well as builders and architects from concept to design implementation. They specialize in large-scale remodels, new home interior design and construction, interior architecture, and home furnishes. If you have a small project that's more of a makeover for a specific room, you may qualify for their Junior Design Program with services provided by Junior Designers in training under the direction of the senior design team.
The firm was founded by Leyla and Scott Jaworski while their other business, Right Way Receiving Co., was launched to support the interior design logistics. The company also has a thriving retail storefront called The Shop by Design Shop with curated furnishings, accessories, textiles, and custom upholstery. The Design Shop Interiors team is grouped into an interior design and architecture team, a furnishing & décor team, and a shop team.
Design Shop Interiors, 49 Natoma St, Folsom, CA 95630 (916) 260-6454
Nested with Style – Certified Home Stager & Home Decorating in Sacramento
Nested with Style was founded in 2017 by Sophia Lavelle, a Certified Home Stager. Lavelle serves agents in Greater Sacramento with staging of empty homes and provides timeless interior design. She has quickly earned a reputation as an interior decorator in Sacramento with vision.
View this post on Instagram
Lavelle assists with new homeowner interior design, staging model homes and occupied or vacant homes for sale, and even holiday staging. Her style focuses on warmth, natural light, and design that's livable and comfortable.
Nested with Style, 5665 Power Inn Road, Suite 128, Sacramento, CA 95824 (916) 591-1686
Kerrie Kelly Design Lab – Nationally Recognized Designers & Interior Decorators in Sacramento
Kerrie Kelly Design Lab is one of the biggest names in interior design in Northern California. KKDL has a well-earned reputation in the industry:
National Interior Design Spokesperson for Zillow
National Board Chair & Fellow to the American Society of Interior Designers (ASID)
Advisory Board Member to Houzz
Editorial Board Member to Furniture
Global Connect Advisor to the National Kitchen & Bath Association (NKBA)
17 Houzz awards
FIXR 2021 Top Influencer in Interior Design
2019 The Sacramento 300 (Sacramento Magazine)
2018 Golden Home Award
2018 ANDYZ Award Winner
View this post on Instagram
From modern and transitional to traditional and contemporary design, KKDL is committed to their core belief that Everyone Deserves Great Design.™ Their Sacramento interior designers have served the community for more than 25 years with exterior and interior design services for major renovations, new construction, and model homes. Their core services include:
Interior design consultation
Outdoor living design
Space planning
Furniture, fabric, and color selection
Product selection and procurement
Custom furniture and other fabrications
Nar Design Group – Sacramento Design-Build Firm Specializing in Kitchen & Bath Design
Nar Design Group is an East Sacramento design-build firm that creates harmonious spaces that truly reflect their clients' tastes. Lead designer Nar Bustamante's style has been influenced by his extensive travels, creating the foundation for award-winning design that has garnered international attention.
Whether you're building a custom home, renovating, or planning extensive interior design for a home you're buying, Nar Design Group believes in "never leaving room for predictability" and delivers innovative design that helps you start every day inspired.
Their specialty is luxury bath and kitchen design that blends transitional, minimalist, mid-century modern, and industrial design elements. You can see examples of their award-winning Sacramento interior design above or click here to see their recent media appearances and awards.
View this post on Instagram
Nar Design Group, 5600 Elvas Ave, Sacramento, CA 95819 (916) 944-0906
Studio Connolly – Award-Winning Sacramento Interior Designer Focusing on Sustainable Design
If you're looking for a Sacramento interior designer specializing in sustainable, environmentally friendly materials, Studio Connolly is your top choice. Leah Connolly is a Certified Interior Designer (CID) who designs for sustainability and health. Your design will, whenever possible, incorporate natural rugs, LED lights, sustainably sourced wood, and organic materials to avoid unnecessary waste and toxins from volatile organic chemicals and flame retardant fabric.
To get started, Studio Connolly offers a two-hour Kick Start Consultation to meet with you at your home, define your style, sketch ideas, and choose materials and colors.
Atmosphere Design Group – Full-Service Interior Design in Sacramento with Custom Furniture, Construction Specs & Project Management
From furniture selection and custom furniture to interior design, construction specifications, and project management, Atmosphere Design Group is one of the leading interior design firms in Sacramento for major home renovations and new home construction.
View this post on Instagram
The primary owner is Robin Wilson, a Certified Interior Designer (CID). The firm has won 10 Best of Houzz awards and designs spaces that are simple in form yet have a dramatic presence. Wilson works with architects and builders for new construction to ensure the interior design is integrated with the plans and assists with selecting finishes, colors, materials, and patterns. Past clients praise her eye for texture, color, and flow. From farmhouse to transitional and modern design, Atmosphere Design Group delivers interior design with the wow factor that's still inviting and livable.
Atmosphere Design Group, 1725 10th St, Sacramento, CA 95811 (916) 454-1056
Sacramento Interior Design Firms Map
Whether you're having your dream home custom built, buying a new home, or just breathing new life into a home you've loved for years, embarking on a major interior design project is definitely exciting! If you need to store belongings during renovations or you're preparing to relocate, Mother Lode Van & Storage can help. Give our movers a call for dependable moving services while you work with one of Sacramento's best interior designers.